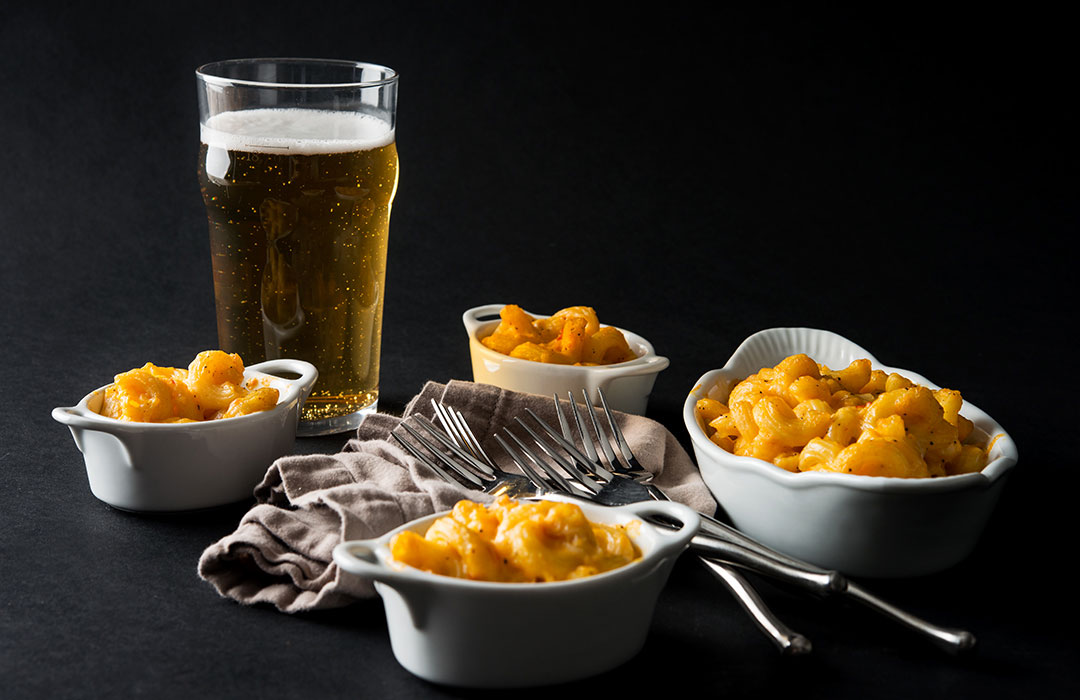 Macaroni and cheese is the quintessential comfort food. Piping hot pasta smothered in rich, gooey cheese sauce makes for the perfect meal or side dish just about any day of the week. While its continued popularity owes a lot to the convenience of a certain prepackaged variety found in a blue box, you might be surprised at how easy and rewarding it can be to make your own mac and cheese from scratch. Give our decadent Lobster Mac and Cheese recipe a try and prepare to ditch the cheese powder forever.
It won't shock anyone to learn that the idea of a pasta and cheese casserole originated in Italy. What may be a little more surprising is that we actually have the British to thank for the first true macaroni and cheese recipe. This was published in the 1770 book The Experienced English Housekeeper by Elizabeth Raffald. Her recipe consisted of a cheddar cheese sauce which was mixed with macaroni, then topped with Parmesan and baked until golden brown. This same basic formula has been used to make mac and cheese in the centuries since.
Our recipe doesn't stray too far from Mrs. Raffald's original. Like her, we start with a cheese sauce, though we like to add some nutty, creamy Gouda to help balance the sharpness of the Cheddar. What really takes this recipe over the top, though, is our addition of luxurious lobster meat to the mix. The mild sweetness of everyone's favorite shellfish helps transform our mac and cheese from a simple childhood staple to an elegant dish that will make you hesitant to ever reach for that blue box again.
Lobster Mac and Cheese Recipe
Yields 4 servings
Ingredients:
16 oz macaroni pasta
6 tablespoons melted butter, divided
1 teaspoon Roasted Garlic Powder
½ cup red onion, finely chopped
¼ cup all-purpose flour
3 cups whole milk
1 ½ cups grated sharp Cheddar cheese
1 ½ cups grated Gouda
1 tablespoon Dijon mustard
2 tablespoons Dried Chives
1/8 teaspoon Cayenne Pepper
½ teaspoon salt, divided
½ teaspoon freshly ground Black Peppercorns
1 pound cooked lobster meat, coarsely chopped
Directions:
Preheat oven to 375° and grease a 3-quart baking dish.
Add 4 tablespoons melted butter to a saucepan over medium-low heat. Add chopped onion and garlic powder; cook until onion is softened, about 5 minutes. Whisk in flour and cook 1 minute. Add milk. Increase heat to medium-high, and bring mixture to a boil, whisking constantly. Bring heat back down to medium-low and simmer until sauce is smooth and thickened, about 3 minutes.
Remove pot from heat and whisk in grated cheeses, Dijon mustard, chives, and cayenne pepper. Stir in ¼ teaspoon salt and black peppercorns. Fold lobster and pasta into the sauce. Pour into prepared baking dish, and bake until light brown and sauce is bubbling, about 30 minutes. Let stand 5 minutes before serving.